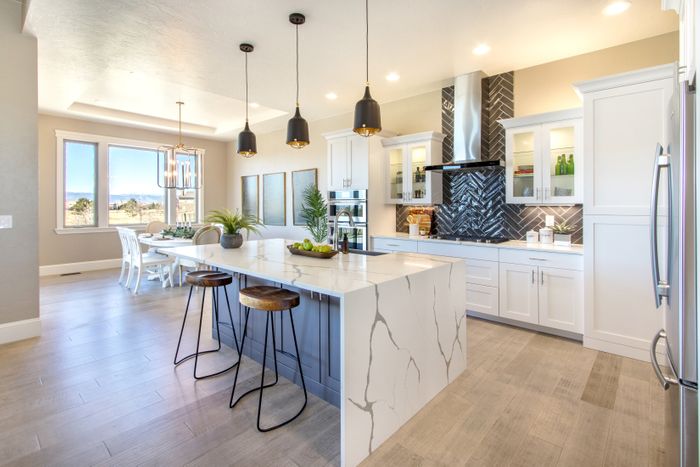 Having a keen interest in architecture, Ed has designed his own floor plans starting with the very first home he built as a general contractor in 1989. Since then, Ed has built several hundred homes in Northern Colorado and now Northern Wyoming.
Top Ten Reasons to Buy a Lifestyle Custom Home
Top of the Line Custom Local Built European Cabinetry
Custom Granite Slab Counter or Quartz Throughout Home
Over-sized Walk-in Closets with Custom Wood Shelving
Garages are Insulated and Sheetrocked
On Demand Water Heaters
Ceramic Tiled Bathroom Floors
Gourmet Kitchens Featuring "Jenn Air" Elite SS Appliances
9' Tall Walls on Main Floor and Basement
Energy Efficient and On Demand Gas Water Heaters
Smart Home Technology Available Per Request
Get pre-approved with a lender
Pre-Approval is a conditional agreement for a specific loan amount. It is based on a verification of your income, credit, and assets. It is also conditional upon a satisfactory appraisal of the property and title review, once you find the home you would like to purchase.
With Pre-Approval, you can shop for a home with assurance because you will know in advance how large a loan you could qualify for. For additional assurance, you can lock in a rate to ensure the amount for which you pre-qualified doesn't change.
Pre-Approval gives you an edge when buying a home since Realtors and sellers will know you are a serious homebuyer.
Savings and Credit
Your loan officer will explain to you how much money will be needed for the down payment on a home. You may need assistance developing a financial plan to help you save the necessary money for the down payment and closing costs.
It is important to have a good credit history by paying your bills on time, limiting your debt, and reducing the amount of credit cards you have and the responsible use of those cards. Our loan officers will review your credit report with you to make sure the record of past and current debt is accurate. The better your credit history, the better your credit score and the more mortgage options you will have.
Mortgage loans are subject to qualification, receipt of satisfactory appraisal, and verification of income, asset and debt information provided by the customer.
Home Shopping
Once you know how much home you can afford, you can begin looking! My web site makes it simple to find properties that fit your criteria. Search for properties that are currently listed. Register for My HomeSearch! and begin receiving email messages when properties that fit your special criteria come onto the market. Put homes you like into your Favorites Box and email information about properties to your friends and family.
You will want to consider the features in a home that are important to you, including proximity to your work, schools, etc. You will also want to determine if you want a new home or a pre-owned home and if you want to do repairs on a home that requires fix-up or want one in perfect condition.
Mick Occhiato
1st Mortgage Group allows me to work as a mortgage banker and mortgage broker. This means that as a mortgage broker, I can offer the broadest product selection available in our industry. We represent many direct lenders, offering you the ability to choose among the best programs and most competitive rates. As a mortgage banker, we make your loan with our own money, provide the highest level of service and have control over the lending process, We'll offer you the choice and competitive rates of a broker and the service of a mortgage banker.
Please take the time to look into our service and rates.